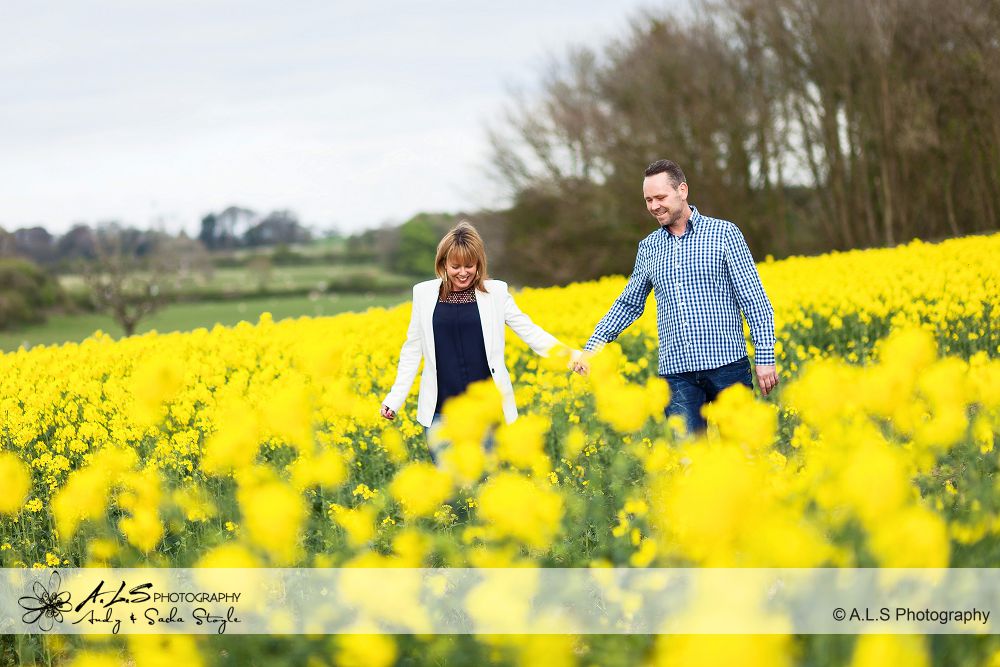 South Wales Location Portrait Photography
The best way to know what it will feel like having your photograph taken on your Wedding day is to have a Photo-Shoot before your Wedding day!!!  Sera & Stu did just that!  They really fancied a Beach session, but we also wanted to take advantage of the Rapeseed fields that were in abundance in the Vale of Glamorgan, so we headed to one that is on a Public Footpath route (it is important that you know that in advance so that you are not trespassing on farmer's land) near Llantwit Major.  We took full advantage of the pathways that are marked out in the field, so that it looked as if they were literally walking through the pretty yellow flowers, the lighting was perfect -the best time of day between 4 & 6pm at this time of the year (April).  We then went off to the beach, the tide was on it's way in which was great for being on the flat rocks but being near the water, much to Sera's dismay!  She handled it very well (even with the heels!!) and we had some fun shots of them walking at the water's edge, incorporating the beautiful cliff face and the rocks at this dramatic and beautiful spot.  It was only a short session, just enough to give you an idea of how we guide through the photographs on your Wedding day!  We then photographed Sera & Stu's amazing Wedding day at the Welsh College of Music and Drama and they both felt so much more relaxed about being photographed.
If you'd like to get in touch or view more weddings from Cardiff Wedding Photographers Andy & Sacha of A.L.S Photography please visit our contact and blog pages and feel free to have a look around.