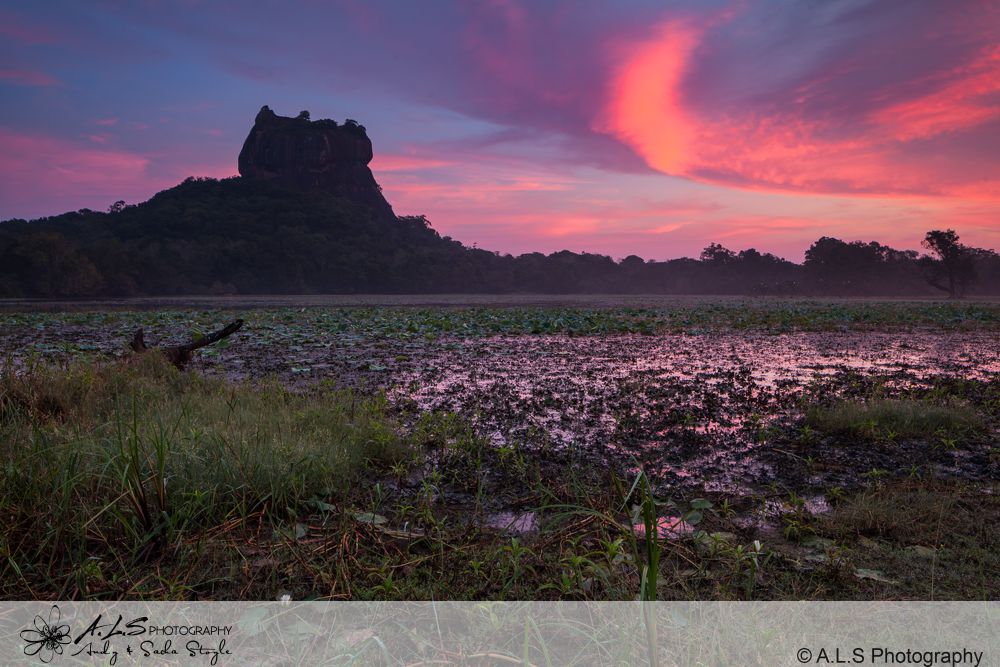 We travel north of Kandy to the country's cultural heartland, firstly to the ancient Sinhalese capital of Polonnaruwa, a small town siting on the edge of a large beautiful reservoir or tank as they are known locally.  We decide to brave the local bus instead of the tourist A/C bus and weirdly prefer it as the driving is not quite so crazy and with all the windows open it's cool enough. We spent a memorable day cycling around the large archaeological park discovering the many ancient temples, tombs, statues and stupas, also some local wildlife including many monkeys and a few rather large monitor lizards.
We travel an hour West to Sigiriya, probably Sri Lankas most iconic sight.  The near vertical walls of the rock rise out of the surrounding jungle plains.  We climb/scramble up the neighbouring rock Pidurangala for a breathtaking evening sunset view.  Typically we are last off and have to climb down in the dark, good job we remembered the torch and lucky that our tuk tuk driver climbed with us and knows the way.  He is even more helpful the next day and takes us to a sunrise viewpoint and then offers to drive us back to Kandy, a 3 hour trip which proved more relaxing than the buses – apart from the Kandy traffic.
Our next adventure is our first Sri Lankan train ride into the Hill Country.
For a further look at our images of our Cardiff, South Wales landscape and travel photography, please have a look at our other Blog Posts and if you have any questions about our services don't hesitate to leave a comment below or contact us.