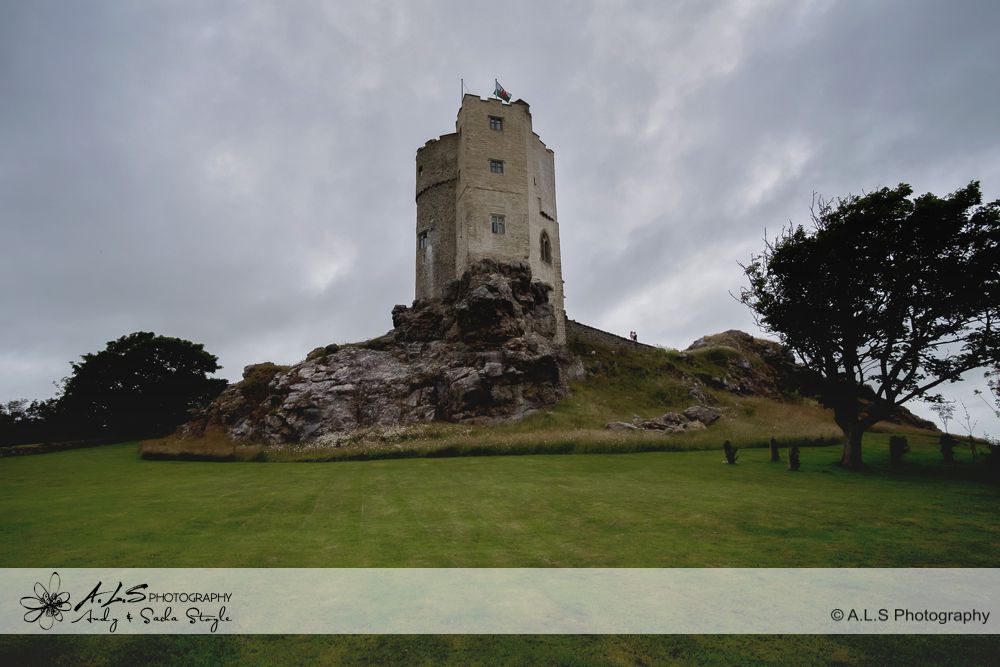 Weddings at Roch Castle Pembrokeshire – What a stunning Boutique Wedding Venue
Weddings at Roch Castle, what an an exciting new venue to add to our portfolio! This dramatic venue stands in a stunning location just outside Haverfordwest in the Pembrokeshire countryside!  Layla & Stuart wanted a very intimate wedding as the proposal had been so intimate, at home, and the castle is  perfect for just that as it has been sympathetically restored in a contemporary design with beautiful, soft, furnishings. Llayla got ready in one of the 6 modern decorated bedrooms where the hairdresser had come to do Layla and her Mum's hair, they applied their own make up – beautifully – and when it was time to put on Layla's beautiful fitted lace and crystal Aphrodite dress from The Tailor's Cat in Cambridge her Mum was on hand to do up all of the buttons and assist with putting her shoes and jewellery. The flowers looked and smelt wonderful, they were perfectly matched to Layla's chosen colour theme of lilac and ivory, Tussie Mussie had done a grand job of the bouquet, button holes, corsages and displays around the castle's rooms, including decorating the cake that was from M&S.  We went to find Stuart and his Best Man Will, his Mum & Dad and 2 brothers and two Sisters and capture them together outside, whilst it was still dry.  The boys looked very smart in their grey Moss Bross suits with lilac waistcoats to compliment the theme running through the whole wedding.  The 23 guests made up of close family and friends enjoyed a lovely ceremony where Stuart's Sister, Sarah, gave a reading and the Cambrian String Quartet played beautifully before, during the 'register signing' and afterwards whilst the guests enjoyed drinks and canapes.  It remained dry so that we could take the guests outside for photographs, using the drawbridge and below to include a confetti shot.  The Castle is surrounded by pretty gardens and stone walls, it was great to literally walk a circuit with Layla & Stuart, capturing the venue and them from all angles!  We left them as they sat down to their sumptuous meal prepared by the resident Chef in the cosy dining room.  Can't wait to shoot more weddings at Roch Castle – just beautiful!
If you'd like to get in touch or view more weddings from  Andy & Sacha of A.L.S Photography please visit our contact and blog pages and feel free to have a look around.