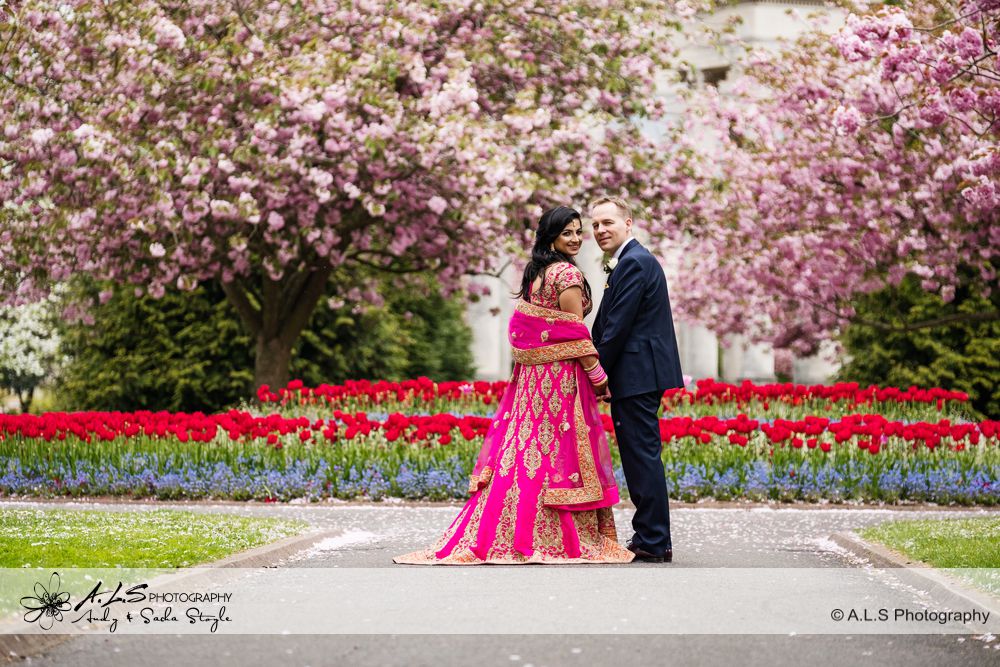 Weddings at City Hall Cardiff – Wow take a peak at this colourful day!
Weddings at City Hall Cardiff are always a pleasure to photograph as it's such a stunning venue and was the perfect choice for this lovely couple's Wedding day!  Brinder and Trystan were uniting two Nationalities, but also bringing together the families & who are spread all over the world, not just England & Wales but Canada & Spain too!!!  It was always going to be a colourful affair with Brinder's family and some of their friends wearing Saris, with Brinder's being the most beautiful incorporating bold colours of pink & orange & adorned with gold embroidery and accessorised with gold & pink bangles, gold earrings, necklace and matha patti (head piece).  We joined Brinder and her family at their rented house in Cardiff Bay where there was a lot of activity with Brinder having her hair & make up applied by Shaz Mani Hair & Beauty, whilst her two young Bridesmaids were getting ready in another room, along with her sister, Mum and family members that had flown in from Canada especially for the occasion!!!  Brinder's 2 Best friends were on hand to help with completing Brinder's attire adding the bangles, gorgeous Carvella champagne glitter shoes and the other finishing touches!  The bouquets for Brinder and her two cute Bridesmaids from Sweet Peony Florist completed the look! The friendly drivers from Alliance Executive Cars transported everyone to the City Hall where we caught up with Trystan, his family and Ushers – Dylan his brother was his Best Man – all of the guys looked smart in their navy suits with gold waistcoats and ties from Slater's Menswear.  The ceremony took place in the Marble Hall, a gorgeous, light room that is very grand with marble pillars and statues and once the ceremony was over and the chairs had been moved in to the banquet hall for the wedding breakfast we utilised the area for the formal family photographs!  The stunning Cathays Park was perfect for their Bridal portraits so we wandered around there with them, it was raining ever so slightly so we got to try out our new heart shaped umbrella from Umbrella Heaven however, it dried up immediately and we were able to capture Brinder & Trystan walking through the park, even getting some natural confetti from the blossom trees when the breeze picked up!  Capturing their every move was the lovely Craig & Abby from Diamond Cut Videos who like us wanted to get beautiful images of them.  The drinks, canapes and wedding breakfast were provided & served by Five Rivers Catering Group once Brinder and Trystan had been led in to the Banquet Hall by two traditional drummers, they had cut their cake – which was made by Trystan's cousin Deborah, it looked amazing! – and the three speeches one of which was made by Sanjeeta , Brinder's sister, Trystan and then his brother Dylan!  Compering the events was the DJ from Illusions Roadshow they had everyone up dancing as soon as the First Dance had finished and we left them dancing the night away!  So there it is – as far as weddings at City Hall Cardiff go, I'm sure you'll agree Brynder and Trystan certainly pulled off something special!
If you are interested in viewing more weddings at this venue, please click this link, wedding photographer Cardiff City Hall.  If you'd like to get in touch or view more weddings from  Andy & Sacha of A.L.S Photography please visit our contact and blog pages and feel free to have a look around.