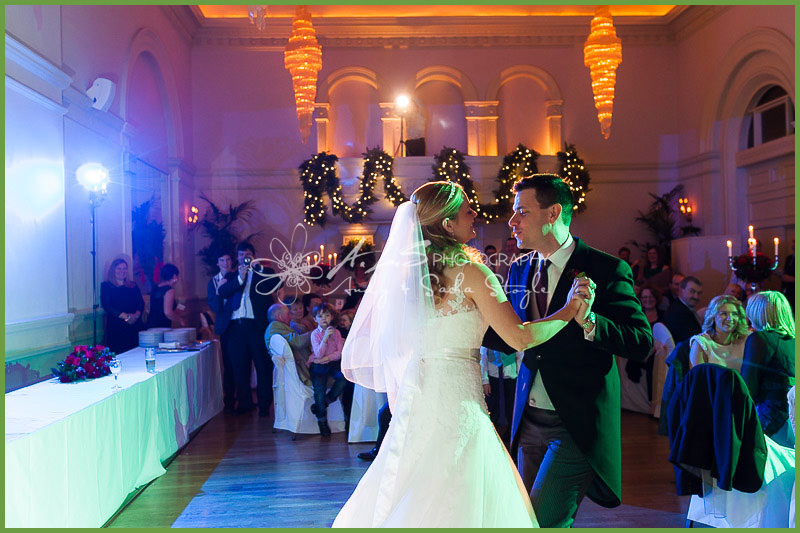 Angel Hotel Abergavenny Wedding Photography
The Wedding of Julia & Chris took place at The Angel Hotel Abergavenny on the windiest and wettest day in December, but it did not stop everyone enjoying themselves!  We had a very warm welcome at Julia's Mum & Dad's home where Julia was getting ready.  While Julia's Dad was putting some finishing touches to his speech, we busied ourselves with photographing some of the lovely detail of the day including some gorgeous red roses from Love Lily.  Julia's friends Emma & Beth arrived to help her to get in to her beautiful Wedding dress, jewellery and veil.  We went ahead to Our Lady's St Michael's Church in Abergavenny to meet up with Chris, his family and his Best Man Rob.  Julia's brothers, brothers in law and nephews were showing guests to their seats.  The rain didn't let up but Julia managed to get to the church in her Dad's Mercedes without getting soaking wet and a beautiful service followed.  Father Richard Simon, kindly, allowed us to take the Family photographs at the altar after the ceremony, we then continued to take the rest of the photographs at The Angel Hotel Abergavenny, where the Ballroom had been decorated fabulously for the Wedding breakfast.  A Brass Band were playing Christmas tunes whilst the guests enjoyed drinks and canapés.  We captured some great expressions during the speeches and some fun friends photographs after the meal.  A DJ and a Band got the evening going where we left Julia & Chris and their guests dancing the night away!
Our style of wedding photography is a mix of documentary photography, unobtrusively capturing moments with natural, Fine Art style bridal portraits.  For a further look at our images of our South Wales Wedding photography, please have a look at our Gallery or other Blog Posts and if you have any questions about our services don't hesitate to leave a comment below or contact us.