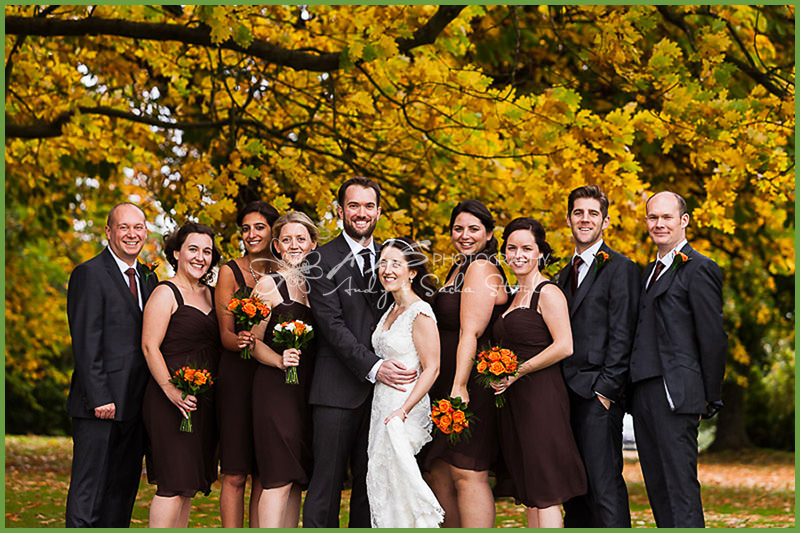 Llansantffread Court Hotel Wedding Photography
Here are a few of our favourite images from our latest wedding of Eleanor & Matt at Llansantffraed Court Hotel, near Abergavenny.  We joined Eleanor, her bridesmaids and family at the hotel, where they were getting ready applying their own make up, beautifully!  All was calm and once the bridesmaids in their chocolate brown dresses from the Cardiff Bridal Centre and her Mum were ready they helped Eleanor in to her beautiful dress which was from Sentiments in Bridgend.  We met up with Matt once he had arrived at the hotel with his Groomsmen and family.  The boys looking very smart in their grey Hugo Boss suits with orange ties that complimented the colour theme for the day of Autumnal colours.  We were able to photograph Eleanor and her family prior to the ceremony too just before proceedings got under way.  The flowers from Hilary's in Abergavenny added the final touch with beautiful bouquets and decorative roses also in the autumnal colours of orange and cream.  Once the lovely ceremony had taken place it was dry enough for the Bridal party and their guests to be outside on the lovely terrace at Llansantffraed Court Hotel and enjoy their welcome drinks, despite the cold, whilst we took the family photographs on the pathway under the trees that are a beautiful colour at this time of year, just perfect for Eleanor & Matt's day.  They then enjoyed a beautifully cooked meal before speeches got under way with laughter and tears!  Having cut the gorgeous cake made by Boutique Bakehouse in Bristol the reception room was cleared to make way for the band, family friends of Matt's, who played a fab mixture of music and kept the dance floor  full all night!!  Looking forward to seeing the happy couple again when they return from their amazing honeymoon in Bali!
Our style of wedding photography is a mix of documentary photography, unobtrusively capturing moments with natural, Fine Art style bridal portraits.  For a further look at our images of our South Wales Wedding photography, please have a look at our Gallery or other Blog Posts and if you have any questions about our services don't hesitate to leave a comment below or contact us.