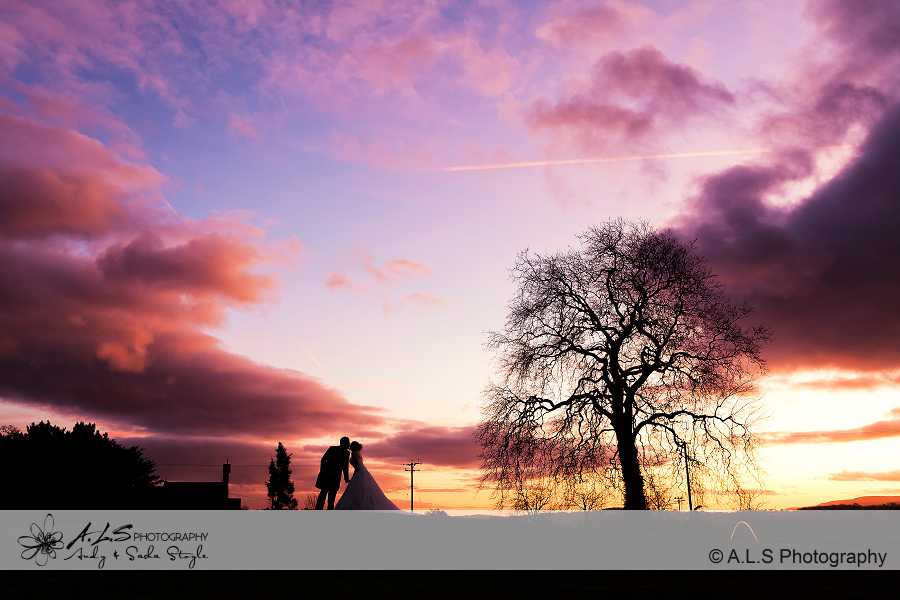 Llansantffraed Court Hotel Wedding Photography
Llansantffraed Court Hotel was the stunning venue for the wedding of Nikki & Tom on a chilly but dry December day! Nikki got ready at the venue where Alex Gallop applied beautiful make up and Lisa Bidwell styled her and her Sister Helen's hair, Helen was also Nikki's Bridesmaid.  Their Mum Jane was on hand to assist with proceedings like lacing up the beautiful gown that Nikki had chosen from Tantrums and Tiaras in Sittingbourne and adding the veil, whilst Helen helped adding the shoes and jewellery. We went to find Tom who was in the foyer greeting guests with his Best Man, Sam and Usher Chris, his Dad Mike and Nikki's Dad Jerry.  They were all in smart charcoal grey suits with silver waistcoats & cravats from Moss Bros, which matched Helen's Bridesmaid dress, though Tom had a burgandy cravat.  It was nice enough to go outdoors, much to Nikki & Tom's delight as they love the outside at Llansantffraed Court as much as the indoors and particularly wanted everyone photographed together on the iconic stone staircase that is at the side of the hotel.  The ceremony went without a hitch, Nikki & Helen's beautiful bouquets, the Men's button holes, the Mums' corsages and all of the floral displays around the hotel and on the tables were created by Emma and her fab team at Love,Lily creating a subtle Christmas theme.  Tom's Dad and his co-musician, Nicky, provided entertainment during the drinks reception playing guitar amongst other instruments.  Their Wedding breakfast was served with a bit of a twist as they nominated one person on each table to 'carve' the main course, Beef Wellington, which had been expertly cooked by the Head chef Mike – he carved for the Top Table!  Just before this occurred we were able to take Nikki & Tom back outside as the sun was setting, this made for an awesome backdrop for a final portrait of the day.  Once the speeches had taken place, including one, unusually, from the Bride herself, it was dark enough to have fun with sparklers, everyone had a go & we captured some cool shapes.  The first dance officially commenced the evening proceedings, and then the band Brother Ray provided great tunes for the guests to dance the night away to!
If you would like to view some more of our wedding photography at Llansantffraed Court Hotel please click here.
Our style of wedding photography is a mix of documentary photography, unobtrusively capturing moments, personality and emotion with natural, fine art style Bridal Portraits at a variety of wedding venues in and around Cardiff, South Wales and the UK.  For a further look at our images of our Cardiff, South Wales Wedding photography, please have a look at our Gallery or other Blog Posts and if you have any questions about our services don't hesitate to leave a comment below or contact us.  Also if you would like to arrange your own Family, Child or Couples Portrait Session please email sacha@alsphotography.co.uk