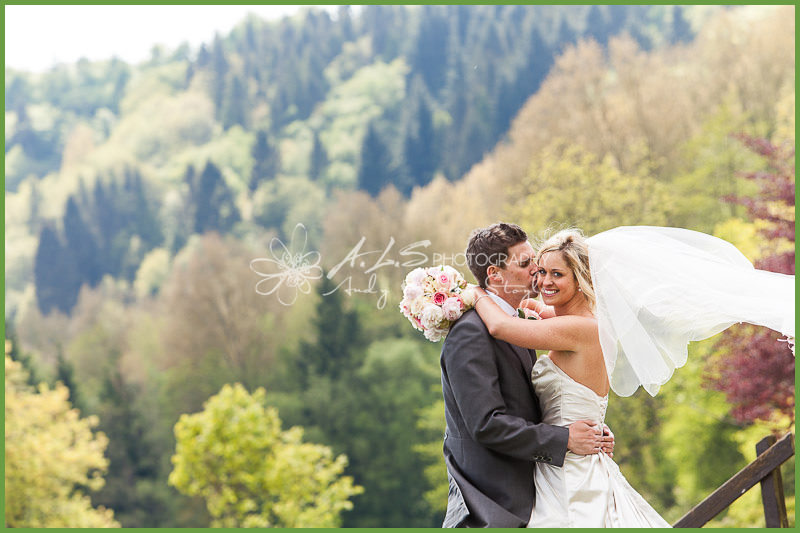 New House Wedding Photography
Here are a few of our favourite images from our latest wedding of Gemma & Matt at St Mary's Church in Whitchurch and then at The New House Country Hotel, Thornhill, Cardiff.  Gemma got ready at her Parent's house in Thornhill, helped by her bridesmaids, who also were responsible for her lovely hair & make up!.  The sun kindly popped it's hat on which makes everyone feel relieved and adds to the happiness of the occasion.  The house was lovely & light and made it easy to photograph the morning's proceedings and the conservatory provided the backdrop for the family & bridesmaids photographs.   The bridesmaids looked gorgeous in long mocha coloured dresses which were from High Society in Cowbridge, really complimented Gemma's beautiful weddind gown.  Added to the ensemble were 4 flower girls and a page boy who are Gemma & Matt's nieces & nephews and a bridesmaid's daughter!  Matt, his best man and Ushers and his & Gemma's Dad looked really smart dressed in grey suits with cream waistcoats and pink cravats to match the bridal bouquet flowers that Gemma's Auntie had arranged  – though Matt stood out as the only one to wear a cream cravat!   The gift bouquets for the Mums and key family & friends were supplied by Covent Garden Florists.  The cake was made by a good friend as was the place names.  The ceremony took place in St Mary's Church, Whitchurch, Cardiff, the service was taken by Canon Chancellor John Rowlands.  Matt's family are parishioners at the church so it was a very personal ceremony.   After the ceremony we were able to take some photographs outside the church, particularly the traditional 'confetti' shot just outside under the litch gate.  Guests then made their way to The New House Country Hotel for drinks and canapes.  We shot all of the family portraits in front of the hotel, utilising the magnificent view over Cardiff which made a great backdrop.  We also had time to shoot a few Bridal Portraits of Gemma & Matt before the wedding breakfast and speeches commenced in the Wyndham Suite, which boasts it's own terrace with the amazing view.  Table decorations provided by Emma Hall Designs, Colwinston.  We also took advantage of some lovely early evening light to capture a few more bridals and have a bit of fun with the Hen & Stag party friends.  The evening entertainment was provided by the resident DJ Alan Griffiths who got everyone up dancing the night away!!!
Our style of wedding photography is a mix of documentary photography, unobtrusively capturing moments with natural, Fine Art style bridal portraits.  For a further look at our images of our South Wales Wedding photography, please have a look at our Gallery or other Blog Posts and if you have any questions about our services don't hesitate to leave a comment below or contact us.