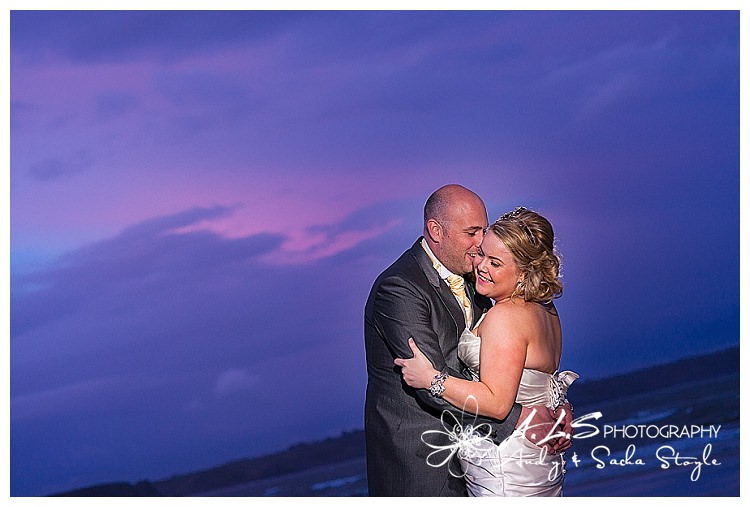 Oxwich Bay Hotel Wedding Photography
The Oxwich Bay Hotel was the setting for this beach mad couple!  Dee & Gareth love the beach so much that Gareth proposed at Llangenith 2 years ago!  Dee got ready in the hotel, bringing Kate, her hairdresser and her make up artist Julie to prepare her, her Mum and Bridesmaids for the fabulous day.  Her Mum, Ilean, helped her in to her beautiful dress from Allison Jayne and the Bridesmaids complimented her in their Royal Navy Blue (Dee's favourite colour) dresses, that were from The Cardiff Bridal Centre.  The beautiful flowers, yellow Calla Lillies and Roses were from Flower Art in Llanelli and provided a real Spring feel to the day.  It rained for the first part of the day and after the lovely ceremony at the hotel, we took a few family photographs in the ceremony room but then the guests transferred to the marquee for their welcome drinks.  This is where we photographed Dee & Gareth with their cake, personalised with pics of them, kindly made by Gareth's cousin, whose company is Cake a chance on Me!  Their tables were beautifully decorated with hessian favours and chocolate shells! As soon as it stopped raining Dee & Gareth were brilliant sports and we went to the waters edge for some fab photos of them with the waves lapping at their feet and even a couple of their Groomsmen & their partners came to join them with some confetti throwing!  They spent the week after their wedding relaxing in Cornwall but lucky things have another honeymoon to look forward to later in the year to South Africa!!!  It was a fab day with fab families!
Our style of wedding photography is a mix of documentary photography, unobtrusively capturing moments with natural, Fine Art style bridal portraits.  For a further look at our images of our South Wales Wedding photography, please have a look at our Gallery or other Blog Posts and if you have any questions about our services don't hesitate to leave a comment below or contact us.