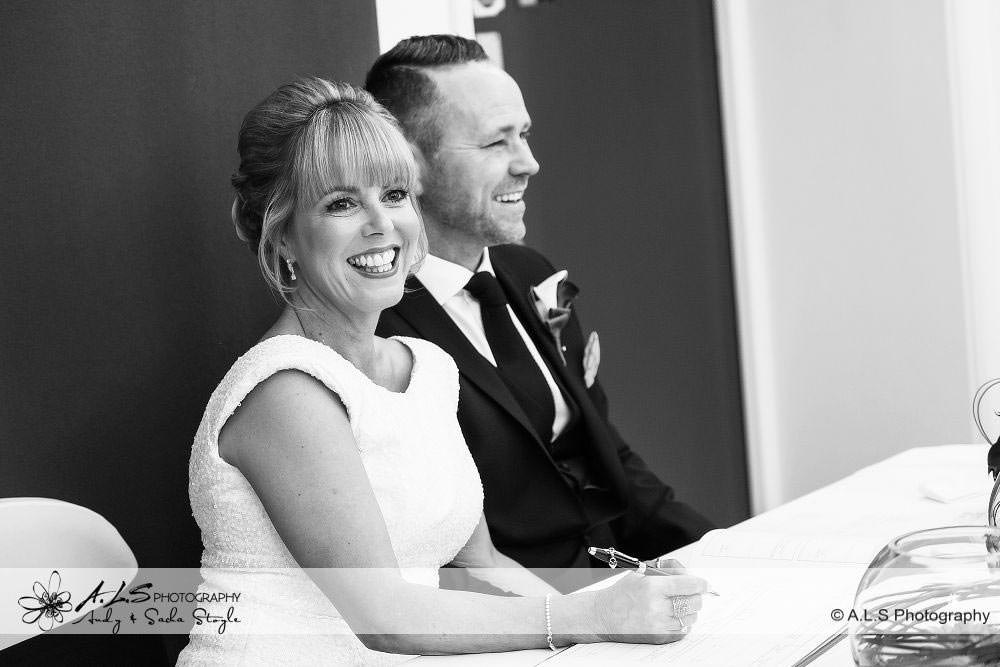 Welsh College of Music and Drama Wedding Photography
The
Welsh College of Music and Drama
was the venue for this Wedding and it was no ordinary wedding, it was the marriage of our very close friends Sera & Stuart and we were honoured to be involved in their big day from planning to pre-wedding photographs to attending and photographing on the day and enjoying being guests!  Sera started her day at
Jolyons No.10
where Victoria from MAC Make Up expertly applied Sera's and her daughter Georgia's make up whilst their hair was coiffeured by Sarah Bonet who is a freelance hairdresser and Harry from Belle Toujours.  Sacha helped Sera in to her stunning 'So Sassi' Wedding Gown from
High Society
, it suited her perfectly, so elegant covered in small sequins and with padded shoulder straps and then Georgia in to her sleek, black Desi Bridesmaid dress, Sera rocked her dress with a fab pair of black Kurt Geiger shoes that were a gift from Georgia!  Sera's son Sam arrived looking smart suited & booted in readiness to give her away.  Sera had chosen deep purple Cala-Lilies for her bouquet which incorporated a small photograph of her late Dad Tony and white Cala-Lillies for Georgia's the contrast with their dresses was striking, Karen from
The Florist
 in Birchgrove had done an amazing job.  We met Stu and his Best Man Shane outside the old converted stables at The College of Music & Drama, where both the ceremony and the wedding breakfast were to be held both looking extremely dapper in their Red Herring suits and managed to get a few pics of them before Sera arrived.  the cute Flower Girls Izzy, Lily Rose & Ruby were waiting patiently for Sera to arrive too in their pretty dresses.
Sam proudly walked Sera down the aisle, the ceremony was very relaxed and included a reading by one of Sera's best friends Sarah!  In true Sera & Stu style they 'rocked' back down the aisle to Madness 'It must be love…' to which we all joined in to sing them out!  Once we had taken a few photographs the wedding breakfast took place and we enjoyed beautiful food prepared by the college and  the orange cake made by Paul at
Happy Occasion Cakes
fitted in beautifully for desert, with the wine & prosecco flowing it was on to the speeches!  Sera's brother Nigel had written an awesome poem about him & Sera growing up which was just hilarious, Stu followed with a heartfelt poem that was completed with a slideshow of photographs compiled from their favourite occasions taken over the last couple of years, including some of their pre-wedding shoot with us!  Shane ended the speeches with some genuine, meaningful words and some funny stories thrown in for good measure. The colour theme for the day was black, orange and white, the button holes were orange Cala-Lillies and Karen had decorated the tables with orange gerberas in tall vases,
Emma Hall Designs
had supplied the chair covers with black sashes.  After our meal we went back outside where Sera, Stu and some of their family members released huge balloons from Dave at
Cardiff Balloons
with messages attached to Sera's late dad Tony, a really moving gesture, then it was time to party!  The main entrance to The
Welsh College of Music and Drama
had been transformed in to a stylish party venue, with the band The
Kiltics
set up and the evening guests arrived Sera & Stu made their entrance by walking across the walkway above the room much to everyone's delight.  Once they had kicked the evening off with their First Dance the dance floor didn't empty as The Kiltics played all the best tunes!!