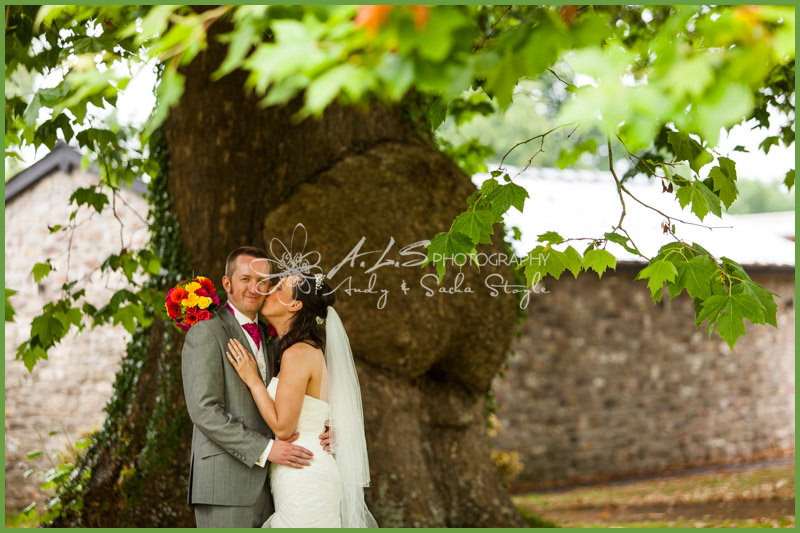 Llansantffraed Court Hotel Photography
Llansantffraed Court Hotel was the beautiful setting for their Civil Ceremony and it was a relaxed atmosphere with the ceremony taking place at 4pm. We hadn't had a rainy Wedding day for a while, but it didn't stop Rachel & Kris having their photographs taken outside on their Wedding Day!  We joined Rachel and her Bridesmaids,  Mum & Aunt in the Bridal suite where she had her make up applied by Leanne and her hair styled by Gaynor & Sian.  We left them all to it for a little while to go and find Kris and his Best Man, Usher and family to take some pre-ceremony photographs, all of the men looked smart in their light grey suits from Dyfed Menswear and the ladies looked gorgeous in their outfits too!  When we went back to the Bridal suite the Bridesmaids were in their fuschia coloured dresses and they then helped Rachel in to her beautiful dress from All About Eve in Newport and her wedding shoes which were unusually sparkly from Rainbow!  It started to rain before the ceremony so Rachel and her Dad stayed inside the hotel to enter.  After a very emotional ceremony everyone stayed indoors with their welcome drinks and were really happy to come outside under a huge tree that acted as a canopy and kept everyone dry!  Rachel & Kris were brilliant sports and remained outside for their Bridal portraits, happy to walk under our white Bridal 'double umbrella'!  After their beautiful meal it was time for the speeches, all 7 of them!  There was just a bit of time to have a few more photographs of their friends and then the DJ got the evening started with their first dance and got everyone else up dancing straight afterwards.  They are heading off on their honeymoon in September to Las Vegas, where Kris proposed!!!
Our style of wedding photography is a mix of documentary photography, unobtrusively capturing moments with natural, Fine Art style bridal portraits.  For a further look at our images of our South Wales Wedding photography, please have a look at our Gallery or other Blog Posts and if you have any questions about our services don't hesitate to leave a comment below or contact us.