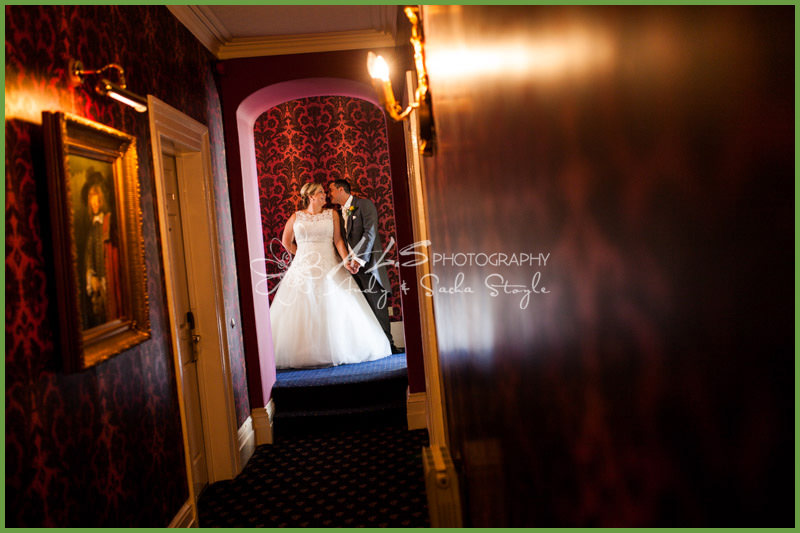 New House Country Hotel Wedding
The New House Country Hotel was the fab setting for Kellieann and Ian's intimate wedding!  Kellieann went to the hairdresser and then got to the New House Country Hotel to have her make up done by Siobhan and to get dressed in to her gorgeous wedding dress with a pretty lace neckline and her white converse 'bling' daps!  Her daughter Melanie and one of her bridesmaids were there to help out.  The theme was bright and colourful with the flowers designed by Rob & CJ at The Village Flower Studio, Rumney, Cardiff.  When the other 3 Bridesmaids arrived they got into their individually coloured dresses one orange, one yellow, one purple and one pink!  Gerberas were the chosen flower that made up the bouquets, button holes & table decorations, with the added touch of a 'Freedom Rose'! Ian and his Groomsmen, their Dads and Sons were all in Morning Suits with smart top hats.  Kellieann's proud teenage Sons Connor & Cameron walked their Mum down the aisle to Ian, with 2 ring bearers leading the way!   After the ceremony we all went outside.  We took a photograph of the whole wedding party from above with the stunning views of Cardiff  in the background.  Once again, the weather was lovely and so we were able to take all of the photographs outside, utilising the beautiful grounds from the huge Sequoia tree to the landscaped gardens with the house as a backdrop!  The speeches were fab from the Bride's Dad to the best Man who was Ian's brother, who along with other family and friends of Ian had travelled from Liverpool for the occasion!  The evening got under way with their DJ Alan playing their First Dance and then playing some more top tunes that got everyone on to the dancefloor!
Our style of wedding photography is a mix of documentary photography, unobtrusively capturing moments with natural, Fine Art style bridal portraits.  For a further look at our images of our South Wales Wedding photography, please have a look at our Gallery or other Blog Posts and if you have any questions about our services don't hesitate to leave a comment below or contact us.