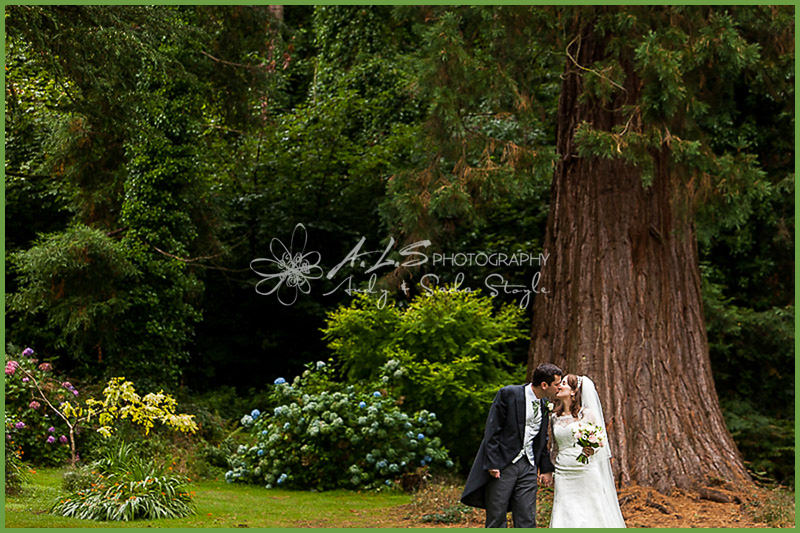 Wedding Photography New House Country Hotel Cardiff
Katy & Mike travelled from their home in Oxford for their lovely wedding in St Isan's Church, Llanishen and The New House Country Hotel, Thornhill.  Since the romantic proposal on Swyncombe Down in Oxfordshire Katy and her Mum, Sheila, had arranged the wedding contacting local suppliers to enhance the day.  Such as the beautiful flowers from The Flower Lodge in Rhiwbina which had the added touch of sprigs of Rosemary in them!  It was very calm at Katy's parent's house when we arrived, hair had been done and Katy was applying her own make up before getting in to her stunning Bridal gown from High Society in Cowbridge with the help of her Mum and 2 Bridesmaids. Two cars from Kennedy Classics transported the Bridal party to the church where we had gone ahead to photograph Mike with his family, his Best Man and Ushers (all of the Ushers were family members too!).  It was at this point that we met the gorgeous Flower Girls and Page Boy.  It was a misty, damp day but everyone was smiling and it didn't stop the guests enjoying themselves.  After the lovely ceremony there was an array of umbrellas and lots of photographs. We even managed a confetti shot under the litch gate.  At the New House Country Hotel we photographed the families in the Wyndham suite where the reception was and took some fab shots of Katy and Mike in their Bridal Suite.  Luckily it then had time to dry up outside so we went to the amazing Sequoia tree in the grounds – one of the tallest of its kind in Wales!  We were lucky enough to be able to enjoy the delicious wedding breakfast with the guests before taking some more photographs of them during the speeches.  The evening was started by the band, Undercover, who played their first dance and got people on the dance floor immediately with their excellent set.  Katy & Mike are now enjoying their honeymoon in Sicily, lucky things!!
Our style of wedding photography is a mix of documentary photography, unobtrusively capturing moments with natural, Fine Art style bridal portraits.  For a further look at our images of our South Wales Wedding photography, please have a look at our Gallery or other Blog Posts and if you have any questions about our services don't hesitate to leave a comment below or contact us.